Pitch Innovations Release Groove Shaper
CD, CD Çalar, DVD, DVD Çalar, SACD, LP, Plak Çeşitleri ve Fiyatları
Fresh on the heels of Fluid Pitch and Fluid Chords, Pitch Innovations introduces Groove Shaper – the "Ultimate Groove Shaper". Groove Shaper is a creative, fun-focused creative sequencer for groove and rhythm. The new device from Pitch Innovations makes it easy to effortlessly craft hi-hats, basslines, short string motifs and more with just a single note. Rhythm through Shapes Use shapes to effortlessly generate groovy rhythms, allowing your creativity to flow freely like never be. Intelligent Magic Dice Generate captivating hi-hats, groovy bass-lines, harmonious chords, and enchanting ostinato strings effortlessly. Let the dice roll and spark instant inspiration! Re-invent your Synths Use a state-of-the-art sampler engine or host your favourite synths/samplers with Groove Shaper. This is defsinged to help unlock fresh ways to use your existing plugins by giving them a magical musical upgrade. Groove Shaper in Dark Velvet Mode System Requirements Groove Shaper is a hosting-enabled MIDI FX plugin. You can host your favourite synths, samplers and plugins or if your DAW supports MIDI FX, you can use Groove Shaper MFX version. DAW Compatibility: Ableton Live 9 and above, Logic Pro X – AU (Instrument & MIDI FX), Cubase, FL Studio, Studio One, Reaper ,Bitwig Studio Format : AU (Mac Only), VST, VST3 Hardware : Intel, AMD, M1 Operating System : OS X 10.12 & above (New MacOS Ventura compatible), Windows 10 (64 bit) Groove Shaper is out now at an intro price of$29 through Nov 18. Regular price $49. [social-links heading="Follow Attack Magazine" facebook="https://www.facebook.com/attackmag" twitter="https://twitter.com/attackmag1″ instagram="https://www.instagram.com/attackmag/" youtube="https://www.youtube.com/user/attackmag" soundcloud="https://soundcloud.com/attackmag" tiktok="https://www.tiktok.com/@attackmagazine"]
CD, CD Çalar, DVD, DVD Çalar, SACD, LP, Plak Çeşitleri ve Fiyatları
attackmagazine

Fresh on the heels of Fluid Pitch and Fluid Chords, Pitch Innovations introduces Groove Shaper – the "Ultimate Groove Shaper".
Groove Shaper is a creative, fun-focused creative sequencer for groove and rhythm. The new device from Pitch Innovations makes it easy to effortlessly craft hi-hats, basslines, short string motifs and more with just a single note.
Rhythm through Shapes
Use shapes to effortlessly generate groovy rhythms, allowing your creativity to flow freely like never be.
Intelligent Magic Dice
Generate captivating hi-hats, groovy bass-lines, harmonious chords, and enchanting ostinato strings effortlessly. Let the dice roll and spark instant inspiration!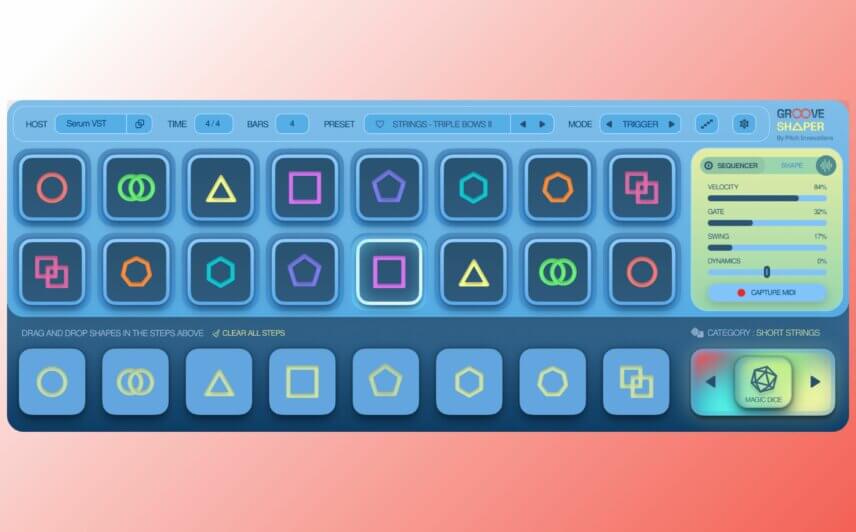 Re-invent your Synths
Use a state-of-the-art sampler engine or host your favourite synths/samplers with Groove Shaper. This is defsinged to help unlock fresh ways to use your existing plugins by giving them a magical musical upgrade.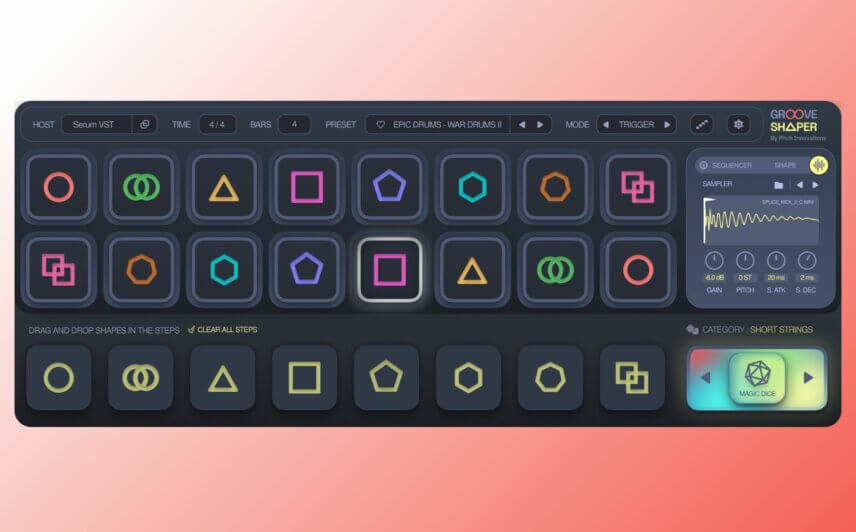 System Requirements
Groove Shaper is a hosting-enabled MIDI FX plugin. You can host your favourite synths, samplers and plugins or if your DAW supports MIDI FX, you can use Groove Shaper MFX version.
DAW Compatibility: Ableton Live 9 and above, Logic Pro X – AU (Instrument & MIDI FX), Cubase, FL Studio, Studio One, Reaper ,Bitwig Studio
Format : AU (Mac Only), VST, VST3
Hardware : Intel, AMD, M1
Operating System : OS X 10.12 & above (New MacOS Ventura compatible), Windows 10 (64 bit)
Groove Shaper is out now at an intro price of$29 through Nov 18. Regular price $49.
[social-links heading="Follow Attack Magazine" facebook="https://www.facebook.com/attackmag" twitter="https://twitter.com/attackmag1″ instagram="https://www.instagram.com/attackmag/" youtube="https://www.youtube.com/user/attackmag" soundcloud="https://soundcloud.com/attackmag" tiktok="https://www.tiktok.com/@attackmagazine"]