"Eric Whitacre Contrast": Bringing Choir & Chaos Closer Together
CD, CD Çalar, DVD, DVD Çalar, SACD, LP, Plak Çeşitleri ve Fiyatları
We spoke to Eric Whitacre, Kaitlyn Aurelia Smith, Clark, and Ryan Lott of Son Lux for an exclusive on the process behind the evolution of Spitfire's latest plugin, 'Eric Whitacre Contrast.'  What do you call a choir that's not in harmony? A "diss-chord"!  Forgive us, but it seemed fitting to begin this piece with a joke as Eric Whitacre, the highly acclaimed composer and choral director, might be in the serious business of classical music, but his Instagram and TikTok show a playful side. This meme about the intricacies of pitch, poking fun at Whitacre's fascination with the complexities of harmony, is a great example. It's racked up 1.7m views and for Whitacre and the wider classical world, the scene is reinventing itself, appealing to newer, younger audiences while finding a whole new direction. Eric Whitacre by Robbie Crawford And his latest creation continues that trend. Whereas Choir, his last virtual choir instrument with Spitfire Audio, is geared towards composers, Contrast "goes darker, more gritty, more smoky, and there's a whole synth engine on the back that is truly alien and geared towards electronic music." For fans of his, perhaps this will be of little surprise – after all – he claims he is "The 5th member of Depeche Mode" on Social Media, pointing to his fascination with synths that predates his current career. Electronic music was his first love, and it's all going full circle.  Currently, he's on a modular synth odyssey. "I'm obsessed with the Lyra-8 by Soma Laboratories. I just love the look, feel, and sound, and modular has fully got me". In some way, modular synthesis has more in common with choral music than you might consider. Both offer limitless harmony, both are the sum of various parts, and both allow the fallibility of human imperfections to shine through. [quote align=right text="Contrast goes darker, more gritty, more smoky, and there's a whole synth engine on the back that is truly alien and geared towards electronic music"] Contrast is built with that in mind, helping bring electronic music producers closer to choral music and vice versa. One quick check of recent techno releases suggests the gap is shortening. This month alone has seen two choir-based techno tracks from genuine techno heavyweights. The first from Italian producer/DJ Deborah De Luca's 'Croce' is a menacing choir workout: And simultaneously, Belgian superstar Charlotte De Witte's 'Pria', released on her new EP 'Power of Thought' is half Hans Zimmer Gladiator era and half Eric Whitacre: If you're chasing this current sound, it's the eDNA chassis you'll want. But beyond the technicalities it's the artists who have worked on Contrast that indicate the vision for Contrast. The first of those is Kaitlyn Aurelia Smith. She has made significant contributions to the world of electronic music, blending analog synthesizers, modular instruments, and her own unique voice to craft immersive sonic experiences. Her work is characterized by its experimental nature, often blurring the lines between traditional composition and electronic sound design.  Next up is Clark, who is best associated with IDM. He's long been a mainstay with the legendary label, Warp Records and is known for his intricate soundscapes, complex rhythms, and a blend of genres. His music tends to evoke a sense of otherworldly wonder, crafting sonic narratives that resonate with both critics and fans. Essential listens include 'Clarence Park" and "Iradelphic'. The last contributor is Ryan Lott of Son Lux, the innovative American musical project founded by composer and producer Ryan Lott. Son Lux blends elements of electronic, experimental, and classical music. Notable albums like "At War with Walls & Mazes" and "Lanterns" have received critical acclaim for their intricate compositions and emotionally charged lyrics. Lott's hauntingly evocative voice, coupled with his genre-blurring soundscapes, creates a unique and immersive listening experience.  About Contrast At its core, Contrast contains 245 experimental techniques performed by 19 members of the Eric Whitacre Singers (Soprano 5, Alto 5, Tenor 4, Bass 5). It's the same singers used on Eric Whitacre Choir and the choice of performer is anything but random. "The choir I've put together combines the purity of tone and clarity of diction. It's also crucial that they are happy campers in the sense they perform well with others. The musicians come first and the rest flows from there. It's eery using Contrast as I can see them in my head when I play with the instrument!" To achieve the precision, Spitfire went to the lengths they have become known for with a comprehensive range of mic positions recorded in the world-famous AIR Studios. For the geeks amongst us, that's one Impulse Response out of reach for most, except Hollywood blockbusters. The Eric Whitacre Choir recording at AIR Studios, London. Each of the 245 techniques is presented with two contrasting tones — 'Light' and 'Dark.' Light is created with an open vowel shape, and Dark with a closed vowel shape. This seemingly subtle change creates an entirely different tone and timbre. And producers and composers alike will find plenty of control – the technique are labelled 'fragments, shards, divergences, murmuring, prisms' and move subtly in the mix, at different intervals and with varying shifts in dynamic, tone, and pitch. Photo: Keith Saunders The eDNA Synth Engine The eDNA synth engine is where Contrast jumps lanes into something different. With a preset name LTJ Bukem, it's clear who the target audience is. This back-end engine is also available on other Spitfire products such as eDNA Earth, Mercury, Jupiter, and the whole range of Albions and Polaris. In a nutshell, using the eDNA, you've got yourself a synth choir. The sounds you can create are possibly best dubbed as a 'choral electronic sphere' full of Spitfire's signature multi-tonal sound. They lend themselves perfectly to sci-fi, horror, or game scores but also electronic music sound design. It features 24 warps and 92 synth presets created from the organic choir material, and a large built-in feature set and FX (including a cool Cassette sound) for maximum creative control. It's in this part of the instrument that the guest sound artists contributed their own presets. Eric Whitacre Contrast About the Presets The synth engine features bespoke presets from three outstanding guest sound artists — Oscar-nominated composer Ryan Lott (Son Lux), Clark, and Kaitlyn Aurelia Smith. Speaking to Attack, Kaitlyn elaborated on her contribution: "I was so excited to have the opportunity to take stacked beautiful vocal intervals and use it as a sound source for more complex synthesis techniques. I particularly love how granular you can get in the programming of Contrast. When I got invited to create presets for Contrast I was actually in the process of writing a 40 min album for a choir. It changed the writing process completely to hear such high-quality samples with intuitive navigation parameters." Ryan Lott, Kaitlyn Aurelia Smith & Clark. Photos: Sergei Sarakhanov Given the extensive controls, we wanted to know if there were any crossovers with music in the sense of how you know when something is complete? Kaitlyn explained, "It actually felt so easy to endlessly sound design that completing a preset and saying 'it's done' was a challenge. The way I approached that was to say it was complete when it felt like a seed for an idea and not a fully formed idea. If someone could take that seed and create their idea with it, the preset was complete". Clark riffed on a similar theme to his collaborator: "I found the LFOs and FX in the plug-in super interesting, and they didn't shy away from many options to add grit, hiss, colour, saturation, which I of course loved. It's fun being able to take stuff wildly out of key, with creeping artefacts and distortion, and then contrast this simulation of analogue with a clean, pristine world of choral tonality. I also used some straight presets for my demo — if it works, it works!" [quote align=right text="I found the LFOs and FX in the plug-in super interesting…It's fun being able to take stuff wildly out of key, with creeping artefacts and distortion"] How Do The Presets Sound? The most interesting aspect of the sounds, for us, is the modulation of synthesis techniques. On a brief call with Ryan Lott we asked him his thoughts on modulation: "A couple of the presets sound very different if you hold the keys vs play very short. Often I treated the mod wheel programming as more of an event trigger, rather than just an "ante up" of the primary sound. I loved filtering out most of the meat of a sound and then using the array of built-in effects to exploit that underlayer. The FX routing is flexible, so you can really go crazy. The reverbs are extremely varied, and in several of the presets, I cranked it up and reduced or eliminated the dry signal and just focused on feeding the reverberation". Clark "The FX patching is really deep as each step of the chain changes the next one, so you have to use your ears in quite a disciplined way to determine why something is/isn't working". Photo: Greg Eden It all sounds relatively straightforward, but surely there are challenging aspects to making presets? "Mainly gain staging. A nice feature of the instrument is being able to keep FX chains and load up new source material, but I found the source material wildly different. So 80% of the time, the new source would throw up an interesting result but then I'd have to reconfigure FX patches. But that became intuitive/quick the more I got used to the interface" Clark explains. The Warp label producer also was clear when a preset is finished as "generally when I start adding unnecessary M4L LFO patches to every parameter that will confuse me the next time I open it up." It sounds like however far you get in your career, we all suffer the same problems! The GUI is not overly intimidating, either. If you're a first-timer, it would be an idea to begin entirely with the Expression, Dynamic and FX knobs before diving into the advanced features. Dial some automation on the expression knob and let the instrument do the work for you. Here's Clark's 'Portal In the Kitchen' preset on a techno tune: Here's Kaitlyn Aurelia Smith's 'Mint' preset: Here's one more. In this example, we're modulating pitch on two separate presets by Ryan Lott, 'Swarm Heave' and 'Hovering Phantoms.' The siren is a modulated choir sound. Modulating Eric Whitacre Contrast in Ableton Live The Coda So, who is Contrast for? No doubt, if you're writing for choirs and voices, there's plenty to enjoy in the traditional sense. Composer instruments are the benchmark for Spitfire. Yet, Contrast, perhaps the name suggests as much, seems to be pushing Spitfire more towards the electronic community. Eric Whitacre explains: 'I've obsessed over this project for some time now. One of the fascinating things with samples is you can have dense clusters but also split them into an 8-part chord and each key gives you further control. It's way more lush than it can actually be in real life. And with the synth engine, it takes it further and further away from choral music'. Eric Whitacre Contrast is out now. It's available on the Spitfire Audio website for £249. Find Eric Whitacre on Instagram and TikTok. [social-links heading="Follow Attack Magazine" facebook="https://www.facebook.com/attackmag" twitter="https://twitter.com/attackmag1″ instagram="https://www.instagram.com/attackmag/" youtube="https://www.youtube.com/user/attackmag" soundcloud="https://soundcloud.com/attackmag" tiktok="https://www.tiktok.com/@attackmagazine"]
CD, CD Çalar, DVD, DVD Çalar, SACD, LP, Plak Çeşitleri ve Fiyatları
attackmagazine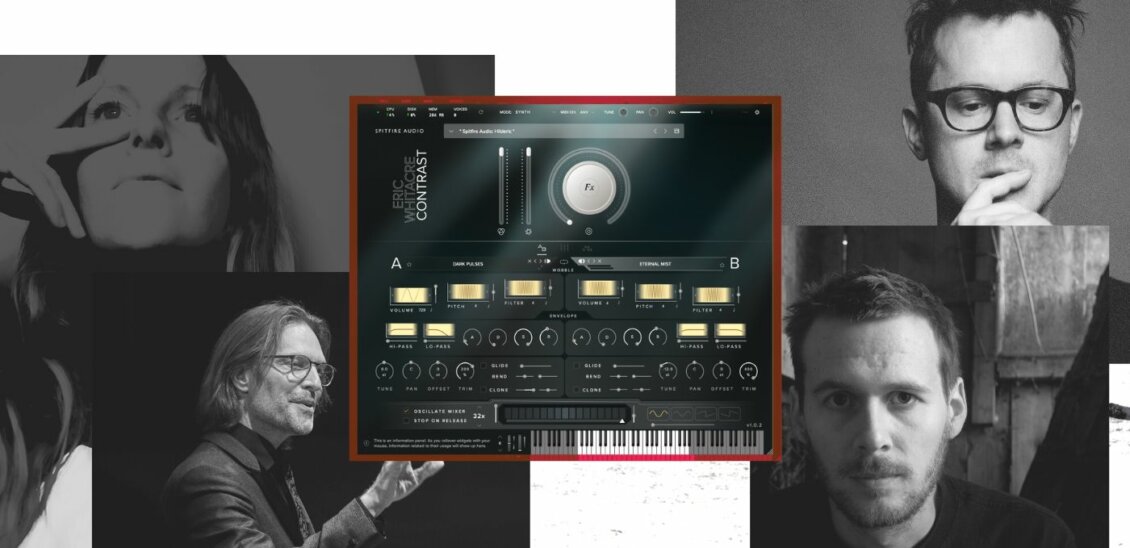 We spoke to Eric Whitacre, Kaitlyn Aurelia Smith, Clark, and Ryan Lott of Son Lux for an exclusive on the process behind the evolution of Spitfire's latest plugin, 'Eric Whitacre Contrast.' 
What do you call a choir that's not in harmony? A "diss-chord"! 
Forgive us, but it seemed fitting to begin this piece with a joke as Eric Whitacre, the highly acclaimed composer and choral director, might be in the serious business of classical music, but his Instagram and TikTok show a playful side. This meme about the intricacies of pitch, poking fun at Whitacre's fascination with the complexities of harmony, is a great example. It's racked up 1.7m views and for Whitacre and the wider classical world, the scene is reinventing itself, appealing to newer, younger audiences while finding a whole new direction.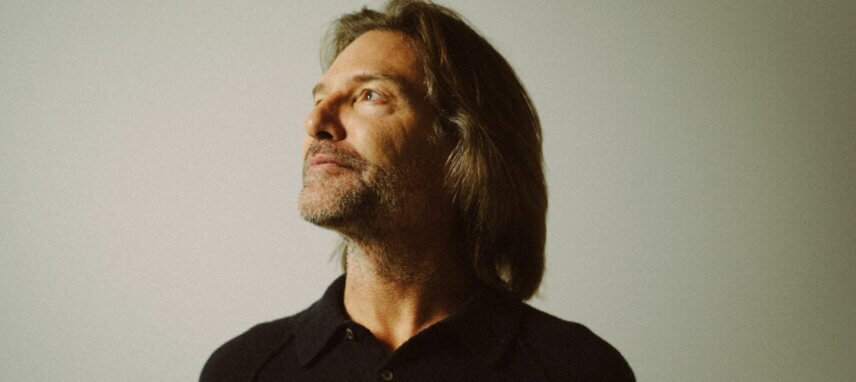 And his latest creation continues that trend. Whereas Choir, his last virtual choir instrument with Spitfire Audio, is geared towards composers, Contrast "goes darker, more gritty, more smoky, and there's a whole synth engine on the back that is truly alien and geared towards electronic music."
For fans of his, perhaps this will be of little surprise – after all – he claims he is "The 5th member of Depeche Mode" on Social Media, pointing to his fascination with synths that predates his current career. Electronic music was his first love, and it's all going full circle. 
Currently, he's on a modular synth odyssey. "I'm obsessed with the Lyra-8 by Soma Laboratories. I just love the look, feel, and sound, and modular has fully got me". In some way, modular synthesis has more in common with choral music than you might consider. Both offer limitless harmony, both are the sum of various parts, and both allow the fallibility of human imperfections to shine through.
[quote align=right text="Contrast goes darker, more gritty, more smoky, and there's a whole synth engine on the back that is truly alien and geared towards electronic music"]
Contrast is built with that in mind, helping bring electronic music producers closer to choral music and vice versa. One quick check of recent techno releases suggests the gap is shortening. This month alone has seen two choir-based techno tracks from genuine techno heavyweights. The first from Italian producer/DJ Deborah De Luca's 'Croce' is a menacing choir workout:
And simultaneously, Belgian superstar Charlotte De Witte's 'Pria', released on her new EP 'Power of Thought' is half Hans Zimmer Gladiator era and half Eric Whitacre:
If you're chasing this current sound, it's the eDNA chassis you'll want. But beyond the technicalities it's the artists who have worked on Contrast that indicate the vision for Contrast.
The first of those is Kaitlyn Aurelia Smith. She has made significant contributions to the world of electronic music, blending analog synthesizers, modular instruments, and her own unique voice to craft immersive sonic experiences. Her work is characterized by its experimental nature, often blurring the lines between traditional composition and electronic sound design. 
Next up is Clark, who is best associated with IDM. He's long been a mainstay with the legendary label, Warp Records and is known for his intricate soundscapes, complex rhythms, and a blend of genres. His music tends to evoke a sense of otherworldly wonder, crafting sonic narratives that resonate with both critics and fans. Essential listens include 'Clarence Park" and "Iradelphic'.
The last contributor is Ryan Lott of Son Lux, the innovative American musical project founded by composer and producer Ryan Lott. Son Lux blends elements of electronic, experimental, and classical music. Notable albums like "At War with Walls & Mazes" and "Lanterns" have received critical acclaim for their intricate compositions and emotionally charged lyrics. Lott's hauntingly evocative voice, coupled with his genre-blurring soundscapes, creates a unique and immersive listening experience. 
About Contrast
At its core, Contrast contains 245 experimental techniques performed by 19 members of the Eric Whitacre Singers (Soprano 5, Alto 5, Tenor 4, Bass 5). It's the same singers used on Eric Whitacre Choir and the choice of performer is anything but random.
"The choir I've put together combines the purity of tone and clarity of diction. It's also crucial that they are happy campers in the sense they perform well with others. The musicians come first and the rest flows from there. It's eery using Contrast as I can see them in my head when I play with the instrument!"
To achieve the precision, Spitfire went to the lengths they have become known for with a comprehensive range of mic positions recorded in the world-famous AIR Studios. For the geeks amongst us, that's one Impulse Response out of reach for most, except Hollywood blockbusters.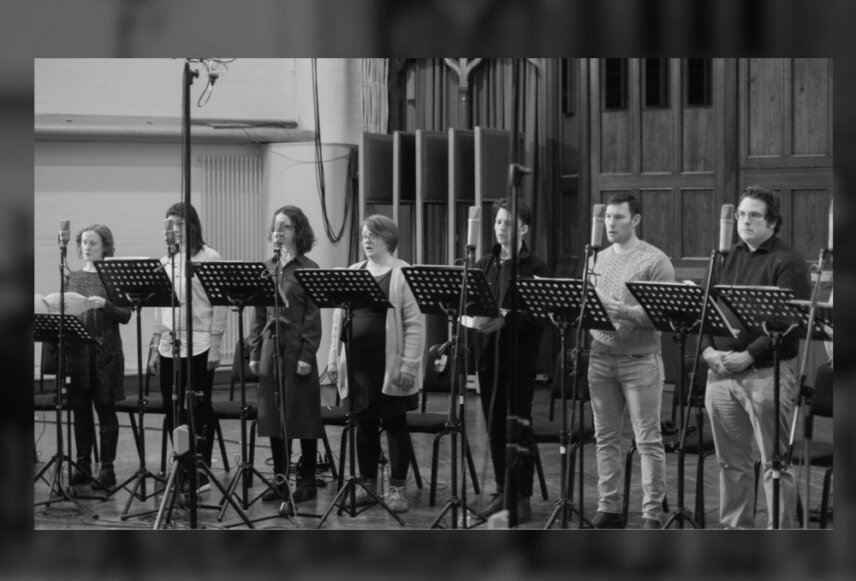 Each of the 245 techniques is presented with two contrasting tones — 'Light' and 'Dark.' Light is created with an open vowel shape, and Dark with a closed vowel shape. This seemingly subtle change creates an entirely different tone and timbre. And producers and composers alike will find plenty of control – the technique are labelled 'fragments, shards, divergences, murmuring, prisms' and move subtly in the mix, at different intervals and with varying shifts in dynamic, tone, and pitch.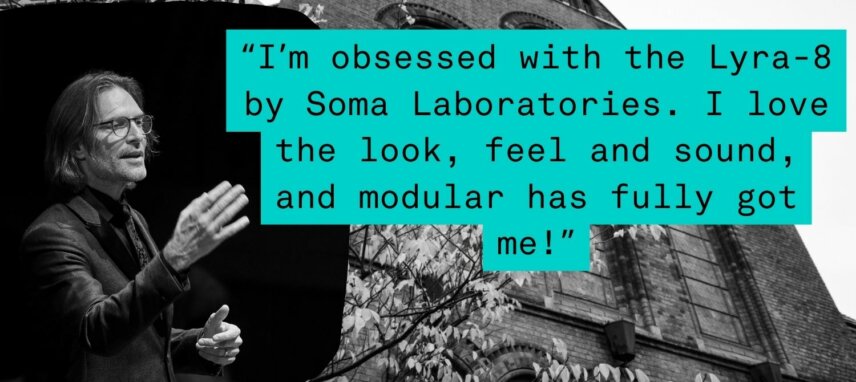 The eDNA Synth Engine
The eDNA synth engine is where Contrast jumps lanes into something different. With a preset name LTJ Bukem, it's clear who the target audience is. This back-end engine is also available on other Spitfire products such as eDNA Earth, Mercury, Jupiter, and the whole range of Albions and Polaris. In a nutshell, using the eDNA, you've got yourself a synth choir.
The sounds you can create are possibly best dubbed as a 'choral electronic sphere' full of Spitfire's signature multi-tonal sound. They lend themselves perfectly to sci-fi, horror, or game scores but also electronic music sound design.
It features 24 warps and 92 synth presets created from the organic choir material, and a large built-in feature set and FX (including a cool Cassette sound) for maximum creative control. It's in this part of the instrument that the guest sound artists contributed their own presets.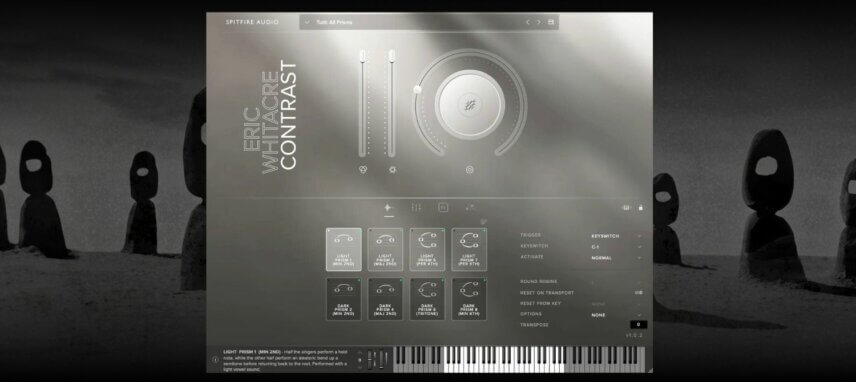 About the Presets
The synth engine features bespoke presets from three outstanding guest sound artists — Oscar-nominated composer Ryan Lott (Son Lux), Clark, and Kaitlyn Aurelia Smith. Speaking to Attack, Kaitlyn elaborated on her contribution:
"I was so excited to have the opportunity to take stacked beautiful vocal intervals and use it as a sound source for more complex synthesis techniques. I particularly love how granular you can get in the programming of Contrast.
When I got invited to create presets for Contrast I was actually in the process of writing a 40 min album for a choir. It changed the writing process completely to hear such high-quality samples with intuitive navigation parameters."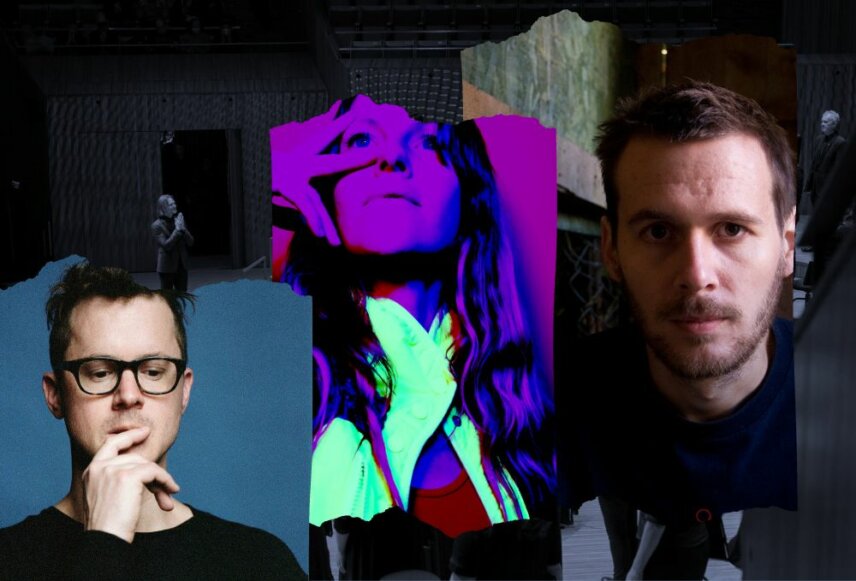 Given the extensive controls, we wanted to know if there were any crossovers with music in the sense of how you know when something is complete? Kaitlyn explained, "It actually felt so easy to endlessly sound design that completing a preset and saying 'it's done' was a challenge. The way I approached that was to say it was complete when it felt like a seed for an idea and not a fully formed idea. If someone could take that seed and create their idea with it, the preset was complete".
Clark riffed on a similar theme to his collaborator: "I found the LFOs and FX in the plug-in super interesting, and they didn't shy away from many options to add grit, hiss, colour, saturation, which I of course loved. It's fun being able to take stuff wildly out of key, with creeping artefacts and distortion, and then contrast this simulation of analogue with a clean, pristine world of choral tonality. I also used some straight presets for my demo — if it works, it works!"
[quote align=right text="I found the LFOs and FX in the plug-in super interesting…It's fun being able to take stuff wildly out of key, with creeping artefacts and distortion"]
How Do The Presets Sound?
The most interesting aspect of the sounds, for us, is the modulation of synthesis techniques.
On a brief call with Ryan Lott we asked him his thoughts on modulation: "A couple of the presets sound very different if you hold the keys vs play very short. Often I treated the mod wheel programming as more of an event trigger, rather than just an "ante up" of the primary sound. I loved filtering out most of the meat of a sound and then using the array of built-in effects to exploit that underlayer. The FX routing is flexible, so you can really go crazy. The reverbs are extremely varied, and in several of the presets, I cranked it up and reduced or eliminated the dry signal and just focused on feeding the reverberation".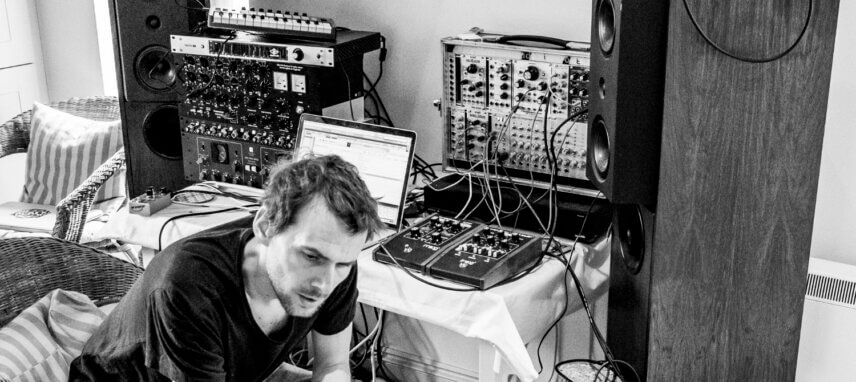 It all sounds relatively straightforward, but surely there are challenging aspects to making presets? "Mainly gain staging. A nice feature of the instrument is being able to keep FX chains and load up new source material, but I found the source material wildly different. So 80% of the time, the new source would throw up an interesting result but then I'd have to reconfigure FX patches. But that became intuitive/quick the more I got used to the interface" Clark explains. The Warp label producer also was clear when a preset is finished as "generally when I start adding unnecessary M4L LFO patches to every parameter that will confuse me the next time I open it up." It sounds like however far you get in your career, we all suffer the same problems!
The GUI is not overly intimidating, either. If you're a first-timer, it would be an idea to begin entirely with the Expression, Dynamic and FX knobs before diving into the advanced features. Dial some automation on the expression knob and let the instrument do the work for you.
Here's Clark's 'Portal In the Kitchen' preset on a techno tune:
Here's Kaitlyn Aurelia Smith's 'Mint' preset:
Here's one more. In this example, we're modulating pitch on two separate presets by Ryan Lott, 'Swarm Heave' and 'Hovering Phantoms.' The siren is a modulated choir sound.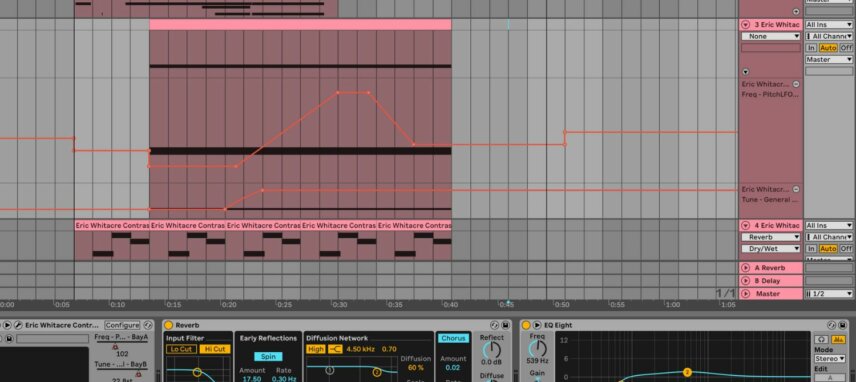 The Coda
So, who is Contrast for?
No doubt, if you're writing for choirs and voices, there's plenty to enjoy in the traditional sense. Composer instruments are the benchmark for Spitfire.
Yet, Contrast, perhaps the name suggests as much, seems to be pushing Spitfire more towards the electronic community. Eric Whitacre explains: 'I've obsessed over this project for some time now. One of the fascinating things with samples is you can have dense clusters but also split them into an 8-part chord and each key gives you further control. It's way more lush than it can actually be in real life. And with the synth engine, it takes it further and further away from choral music'.
Eric Whitacre Contrast is out now. It's available on the Spitfire Audio website for £249.
Find Eric Whitacre on Instagram and TikTok.
[social-links heading="Follow Attack Magazine" facebook="https://www.facebook.com/attackmag" twitter="https://twitter.com/attackmag1″ instagram="https://www.instagram.com/attackmag/" youtube="https://www.youtube.com/user/attackmag" soundcloud="https://soundcloud.com/attackmag" tiktok="https://www.tiktok.com/@attackmagazine"]